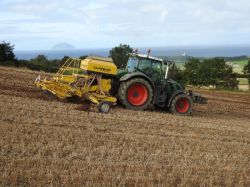 Lord David Kennedy

Maybole, Ayrshire

1,000

Wholecrop hybrid rye, triticale, spring barley, spring beans, maize, fodder beet
DIRECT STRIP SEEDING REVITALISES SOILS AND BOOSTS WORM POPULATIONS ON SCOTTISH ESTATE IN AYRSHIRE.
1,000 arable, Light to medium sandy loam soils, Maybole, Ayrshire
"The Firth of Clyde often turns brown after heavy rain as a result of topsoil being eroded from farmland and washed down into the water courses which feed into it," Lord David Kennedy states, describing one of the major environmental issues affecting this picturesque region. Read more here.