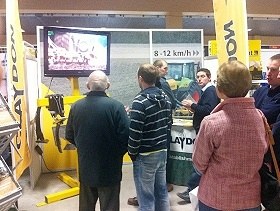 As we expand further into Europe, last week the Claydon team exhibited at the Irish Farm Expo Show in Dublin which is the first show we have attended in the country.
Over the two days a significant number of Irish tillage farmers visited the stand, keen to learn how the Claydon system could reduce their establishment costs and increase margins. Charlie Eaton UK & Ireland Sales Manager stated "The show proved a huge success, from the response we received, I have no doubt we can build upon the handful of drills we already have in operation across Ireland because our system is proven to reduce establishment costs but also deliver excellent yields year after year.
Conditions in Ireland offer different challenges for our customers but the success that our existing Irish customers are having illustrates that the Claydon system offers a sustainable future for Irish Tillage Farmers needing to reduce costs to improve profitability".
Claydon now have two agents in Ireland who will happily demonstrate potential customers how the system is delivering fantastic results for them;
Noel Furlong – Co Laois – 0861726001
Alex Jeffery – Co Cork – 0866035613
If you are an Irish Tillage Farmer looking for a more cost effective alternative to conventional or min-till cultivations, please submit your details on the Claydon website to receive an information pack or alternatively call Charlie Eaton on (+44)01440820327 or contact your local agent either Noel or Alex.